Undelete android picture,android recover deleted files pictures
Undelete android picture,android recover deleted files pictures
Q:
Undelete android picture,android recover deleted files pictures,How to recover deleted files and pictures on an android phone?
A:
When users inadvertently format the memory card or sd card of android phone's, they can use the "unformat" to unformat sd card android for recovery. This function supports the partitions which are Fat32, Exfat or Ntfs before formatting or are Fat32, Exfat or Ntfs after formatting when recovering.
Necessary to point out that: there are a large number of Android phone users often lost photos and video now, for the current version of Android, the situation is more complicated:first, it is recommended that the user's preferred mode is USB mass storage to use connect the phone and computer directly.If you canidentifying "undelete", "Recover partition", "full scan" "unformat" in aidfile, then you can restore data easily. Secondly, for external SD card, it is recommended to usecard reader connected to the computer directly for restore. The last,for now, there is a large number of higher-version Android phones,especially mobile phones built-in with SD card, in the first two cases, data and information cannot recovered, in this case, we recommended downloading the Android version recovery.
If the users mistakenly delete the files (shift+delete or empty the recycle bin or, delete the files while cleaning viruses) and the file system is Fat32, Exfat or Ntfs, they can scan and recover the files using the "Undelete" function.This data recovery software's undelete-scanning is very fast and with strong functions.
When memory card of android phone's partitions are lost or cannot be accessed due to users'mistakenly deleting the files or other reasons, "Recover Partition" can quickly scan and find the partitions and recover all the data files.
If the "unformat" ,"undelete" and "recover partition" can not find the lost or deleted files.
Choose "Full Scan" to find files with deep full scan.It support many file types.For example, MS office files such as doc,docx,xls,xlsx,ppt and pptx;pst of MS outlook email; the majority of audio and video files such as MP3,MP4,AVI,MTS,M2TS,3GP,MOV, etc.; almost all the types of photos or pictures such as JPG,PNG,TIF,RAF,BMP etc.
1.When you delete files is that they are not actually removed from hard drive.With Aidfile File Recovery Software,you can recover deleted files on a android phone?
Please learn to recover data from android phone and read blow contents.
Usually,one android phone have a ROM as CDFS file system and a Memory card(SD card) USB flash drive as FAT32 or NTFS or Exfat file system.
So you can use "Full Scan" mode to recover data from ROM.
And use "Full Scan" or "Unformat" or "Undelete" or "Recover partition" mode to recover data from your USB Memory Sd Card drive of android
2.Aidfile also can help you recover lost files after format android phone.
3.How to recover files from android phone?
1st,you need set your smart phone as "Mass storage mode".
2nd, connect the android phone to the PC, or use some SD card (memory card,micro sd card) Adapter and connect it.
Then use "Full Scan" or "Unformat" or "Undelete" or "Recover partition" mode to recover data from your USB Memory Card drive of android .
If your smartphone run android version 4.0 or later , maybe will not be able to retrieve data in four nomal ways ("undelete","recover partition","unformat", "Full scan" ), maybe the Internal sd card can not be recognized as usb mass storage device by PC.Now you can use "android recovery" - How to recover deleted photos from android internal memory.
4.Supports almost all mobile smartphone brands, in addition to the iphone.For example,Blu ,Samsung Galaxy Note 4 ,Samsung Galaxy Note 3 ,Samsung Galaxy Note 2 ,Samsung Galaxy S5,Samsung Galaxy S4, Samsung Galaxy S3,HTC one,Motorola moto X,Motorola XT928,XT685,Nokia 925,Nokia 1020 ,920,820,....and so on
5.Not only andriod phone we can recover data,every storage devices such as memory stick,memory card,sd card,pen drive,flash drive,digital camera,cf card,and other usb drive/external hard drive/internal hard drive.
6.The most important thing is just to restore data, brand-independent, and regardless of the type of storage device.As long as your storage device through a card reader or usb data cable to connect to the Windows operating system.
Carrier:Unlocked,AT&T,Sprint,T-Mobile,Verizon.....
Manufacturer:BLU R1 HD,BLU Advance 5.0,BLU Energy JR,BLU Vivo XL,BLU Studio X8 HD,BLU Energy X 2,BLU Studio Selfie 2, BLU LIFE ONE X2,BLU VIVO 5, BLU Life Max,BLU Energy Diamond Mini, Blu Dash JR D141W,Acer Liquid,Alcatel's OneTouch,Alcatel Authority,BlackBerry Classic,BlackBerry Passport,BlackBerry Curve,Blu Tango,Blu Life Play,BLU Studio,Casio G'zOne,HP Veer,HP iPaq,HTC One M10,HTC One E9,HTC One E10,HTC Desire,HTC One M8,M9,HTC One Remix,HTC One E8,HTC One Mini,Desire 616 ,HTC Desire 816,HTC One SV,HTC Butterfly S,HTC Windows Phone 8X,HTC One Max,Desire 601,HTC Droid DNA,HTC One VX,HTC Evo,HTC One X,Huawei Ascend Y550,Huawei Honor 6,Huawei Ascend Mate 7,Huawei P10,Huawei P9,Huawei Ascend P7 P6 P8,Huawei Ascend Mate 2,Huawei Honor 3X,Huawei Honor 4X,Huawei Honor 5X,Huawei Honor 6X,Huawei Honor 8X,Huawei Pal,Huawei Valiant,Huawei Vitria,Huawei Premia,Huawei Mercury,Huawei Ascend II,Huawei Pinnacle,Huawei's Ascend P1,Huawei Activa,Huawei's T-Mobile MyTouch,T-Mobile MyTouch Q,Huawei Verge,Huawei Ascend Y,Huawei Ascend D1 Quad XL,Huawei Ideos X5,Kyocera DuraForce,Kyocera Hydro Life,Kyocera Brigadier,Kyocera Contact,Kyocera Hydro Vibe,yocera Verve,Kyocera Hydro Plus,Kyocera's Elite,Kyocera Hydro,Kyocera Milano,Kyocera DuraMax,Kyocera Brio,Kyocera DuraCore,DuraPlus,DuraXT,Torque,Kyocera Event,Kyocera Kona,Kyocera Echo,Kyocera Domino,Kyocera Rio,Sanyo Taho,Kyocera Laylo,Lenovo S930,LG G3 Vigor,LG's Tribute,LG G3 S,LG Realm,LG Unify,LG Wine, LG G Vista,LG Optimus L70,LG Expression 2,LG Exalt,LG G Pro 2,Optimus F3Q,Motorola Droid Turbo,Motorola Moto X,Motorola Moto G,Motorola Moto E,Motorola Droid Max,Moto X,Motorola Droid Razr Maxx,Motorola Admiral,Motorola Atrix,Motorola Photon,Motorola Electrify, Motorola Droid Razr,Motorola Defy XT,Motorola Electrify M,Palm ,Pantech,Pharos Traveler,Samsung Galaxy Note 4,Galaxy Note Edge, Samsung Galaxy Avant,Galaxy Alpha,Samsung Galaxy S7,amsung Galaxy K Zoom,Samsung Galaxy S5,Samsung Galaxy S6, Samsung Galaxy Light,Samsung Gravity Q,Samsung Ativ S Neo,Samsung Galaxy Mega 6.3,Samsung Galaxy Admire 2,Samsung Galaxy Discover,Samsung's Galaxy Note 3,Samsung Galaxy Ring,Samsung Freeform 5,Samsung Galaxy Amp,Samsung Galaxy Admire,Samsung Ativ Odyssey,Samsung Galaxy Stratosphere,Samsung Entro,Samsung Galaxy Stellar,Samsung Galaxy S Relay,Samsung Galaxy S II,Samsung Galaxy Rush,Samsung Galaxy Reverb,Samsung's Rugby ,Samsung Array,Samsung Galaxy Axiom,Samsung Galaxy Victory,Samsung Galaxy S Lightray,Samsung Intensity,Samsung Galaxy S3,Samsung Galaxy Beam,Samsung Galaxy Exhilarate,Sanyo,Sony Xperia Z6,Sony Xperia Z5,Sony Xperia Z4,Sony Xperia Z3,Xperia T3,Sony Xperia M2,Sony Xperia Z2,Sony Xperia Z1,Sony Z Ultra,Sony Xperia Z Ultra,Sony Ericsson Vivaz,Sony Ericsson Xperia,ZTE Grand X,Asus PadFone,FonePad,ZenFone,Xiaomi Mi5,Xiaomi Mi 4,Xiaomi Redmi Note,Xiaomi Mi 3,Xiaomi Redmi 2, Sharp Aquos Crystal,Sharp FX ,Meizu MX4,MX5,MX6,MX7,MX8,OPPO Digital,Drywired,Lenovo,WiMAX Holding,Siempo phone, LG Phoenix 3, ZTE Blade V8 Pro Mini,Sony Xperia XA1, Alcatel A5, Nokia 3, Nokia 3310, Lenovo Moto G5 Plus,Huawei P10 Plus,LG X Power2,Samsung Galaxy Note 8,Oppo R9s Plus,Meitu T8,OnePlus 3T, Coolpad Note 5 Lite, Samsung On5 Pro, Samsung On7 Pro, Coolpad Mega 2.5D,Moto G Plus,Coolpad Note 5,Nubia Z11 Mini,Xiaomi Mi Max Prime ,Coolpad Mega 3 ,Samsung Galaxy On8, Asus Zenfone Max ZC550KL-6A068IN,Vivo V5,Oppo F1S,Xolo Era 2,LYF Smartphone CK LS-5002,Lenovo Vibe K5,Cloud Q11-4G,Coolpad Cool 1,Micromax Canvas Nitro 2 E311,OPPO A37,Samsung Galaxy J2 ,Oppo F3 Plus,Lenovo A6600 Plus,Intex Cloud Cube,Xolo Era 2,Lenovo Phab 2 Plus,Goodone G230,OnePlus 3,Intex Aqua Ring,Panasonic P55 Novo,Gionee S6s,YU Yuphoria YU5010A,Moto G Turbo,Good One G7,Honor Bee,Micromax Canvas 6 Pro,Honor Holly2 Plus,Intex Cloud Q11,LeEco Le Max2 X821,Swipe Konnect Plus,LeEco X509 Le 1s Eco,Coolpad Max A-8,Lava X19,Gionee P5 Mini,HTC Desire 10 Pro,Gionee P7 Max,OPPO F1 Plus,Vivo Y21L,Obi Worldphone SF1,InFocus Bingo 10 M415,Coolpad Note 3 Plus,Micromax Canvas Juice 2 AQ5001,Micromax Bolt S301,Micromax Canvas Mega 4G Q417 ,Lenovo A1000,LG K10,Xiaomi Redmi Note 3,Karbonn Titanium Machfive,Asus Zenfone Selfie ZD551KL-2A506IN,XoLo Era X,Sony Xperia M2,Videocon Krypton3 V50JG,Sony Xperia M,InFocus M370,LG Nexus 5X LG-H791,Gionee M2,Asus Zenfone 5,Asus Zenfone 6,Lenovo Zuk Z1,Lenovo S660,Sony Xperia C,Sony Xperia T2 Ultra,HTC Desire 820s,Sony Xperia Z1,Xolo Q1000 Opus,Lenovo A369I,LG L90 Dual D410,Micromax Unite 2 A106,Xiaomi R11,Vivo Xplay6,HTC U11,Motorola Moto C Plus,Motorola Moto G5S Plus,Huawei Honor 6A,Meizu Pro 7,Motorola Moto Z2 Force,Google Pixel 2,LG Q8,Nokia 8,Moto E4,Galaxy J3,Nokia 3,Nokia 5,ZTE Blade Spark,LG Q6,HTC U11,OnePlus 5....
Of course,if your phone is iphone,we can only help you recover the data from the usb drive partition which from Jailbroken iPhone or iPod as a flash drive.
How to recover deleted pictures on an android phone
1:Please Insert your phone to computer:
2:Select Full Scan to recover files from CDROM of android phone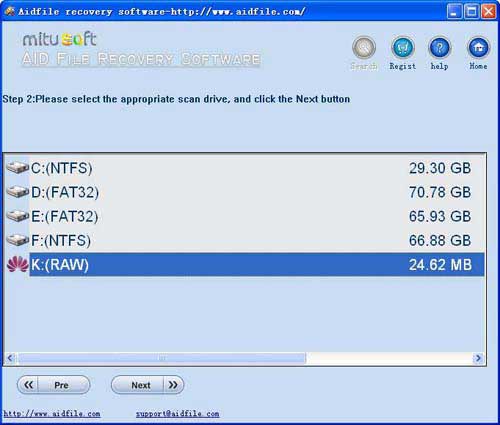 3:Scan The CDROM as Raw recovery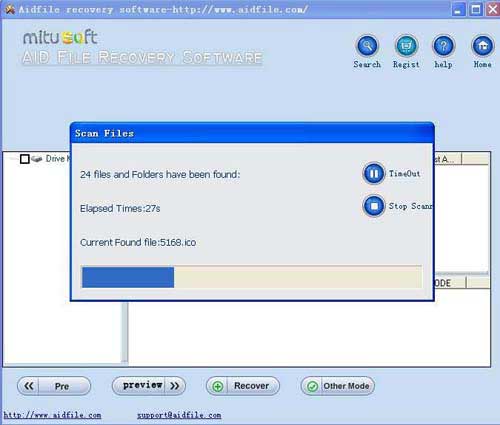 4:Preview and recover files:
5:Please Insert your phone as USB drive or insert your memory card to computer:

6:Select the "Advance Scan" or "Unformat" or "Undelete" or "Recover partition" button , to recover deleted files on a android phone usb drive?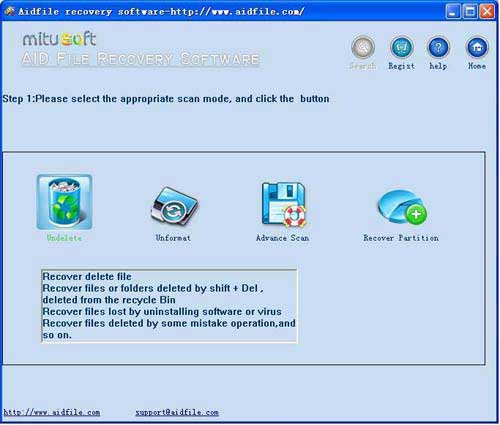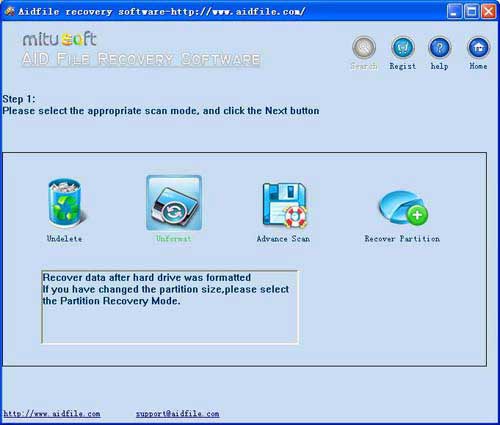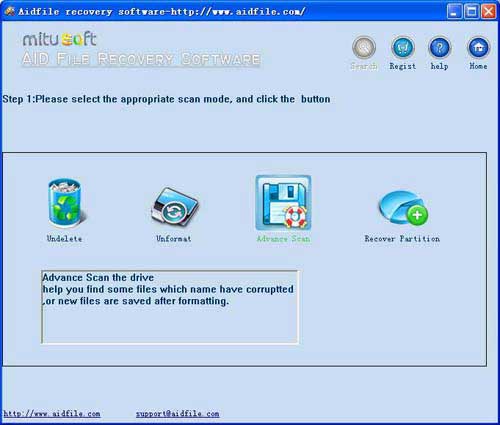 7:Select the drive of your android phone usb drive?
Then scan,preview,recover files.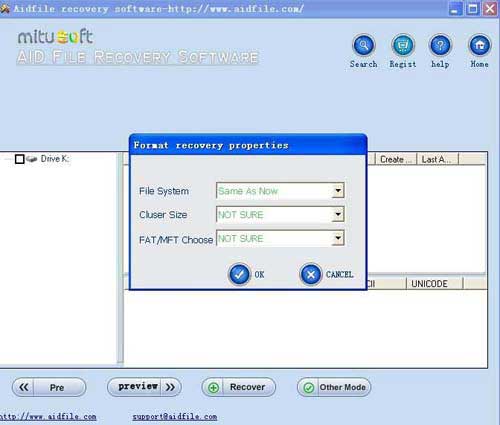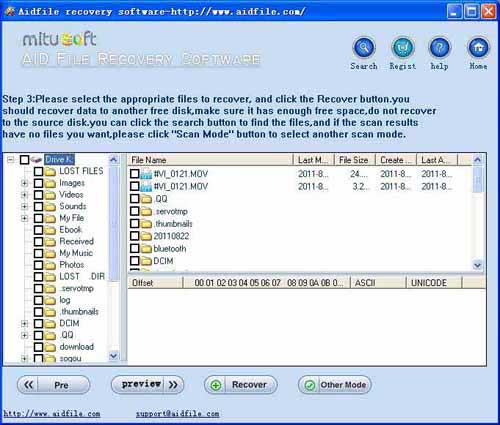 Android version update:
Android 1.1 - Petit Four
Android 1.5 - Cupcake
Android 1.6 - Donut
Android 2.0 Éclair
Android 2.0.1 Éclair
Android 2.1 Éclair
Android 2.2 - 2.2.3 Froyo
Android 2.3 - 2.3.2 Gingerbread
Android 2.3.3-2.3.7 Gingerbread
Android 3.0 Honeycomb
Android 3.1 Honeycomb
Android 3.2 Honeycomb
Android 4.0 - 4.0.2 Ice Cream Sandwich
Android 4.0.3 - 4.0.4 Ice Cream Sandwich
Android 4.1 Jelly Bean
Android 4.2 Jelly Bean
Android 4.3 4.3.1 Jelly Bean
Android 4.4 4.4.4 KitKat
Android 5.0 Lollipop (Android L)
Android 5.1 5.1.1 Lollipop (Android L)
Android 6.0 6.0.1 Marshmallow (Android M)
Android 7.0 – 7.1.1 Nougat